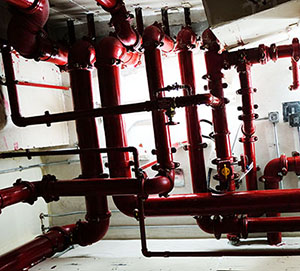 Our Business
We are an established fire safety services provider in Hong Kong, focusing on building fire safety. Our services cover the design, supply and installation of fire safety systems including evacuation and electrical fire alarm systems, water and gas suppression systems and portable fire equipment for newly built and existing buildings in Hong Kong. We also provide repair and maintenance services on fire safety systems to satisfy Fire Services Department's requirements. To supplement our repair and maintenance services, we also supply fire equipment to our customers.
Corporate Profile
Lumina Group Limited
Our Group Company was incorporated in the Cayman Islands under the Companies Law on 7 July 2016. Our Group mainly comprised our Company, Kin Ying Contracting Limited and Kin Ying F.S. Engineering Limited which was listed on GEM of The Stock Exchange of Hong Kong Limited on 25 October 2017 (Stock Code : 8470) and transferred to Mainboard on 20 April 2020 (Stock Code : 1162).
Kin Ying Contracting Limited
The Company was incorporated in Hong Kong as a limited liability company on 27 December 2002 and it was registered as a Class 1 and Class 2 registered fire service installation contractor since year 2005.
The Company mainly provides the following services to its customers for compliance with the requirements of the Fire Services Department:
designed, supplied and installed fire safety systems, including evacuation and electrical fire alarm systems, water and gas suppression systems and portable fire equipment for buildings
provided repair and maintenance services on fire safety systems
supplied fire equipment